Horse, Bird, Dolphin, Duck, Cat, Horse, Fish Ornated Water Hose-Bib Spigot
Sales and supply of Horse Head, Cat, Bird,Cockerel, Duck, Fish, Snail and Tortoise ornated water hose-bib spigots. These animal themed water faucets come with a small back plate and in polished brass finish and are ideal for yard, patio, drive and garden watering.

Classic Styled Hose-Bib Taps Ornated with Animal Themed Knobs
These animal ornated knob taps are solid brass made and come with a matching back plate in typical yellow brass polish finish and are 1/2'' BSP threaded. We have other decorative outdoor taps and brass faucets tipped with a hose pipe connector that can easily be fitted into any existing 1/2 inch BSP mounting and most got the standard ¾" outlet / hose pipe fitting.
If you strictly require a 3/4'' inch watertap you might consider the BRS011, BRS011p, BRD037p or SB13 3/4'' faucets. We can supply single, small and larger quantity of taps internationally.
BRD - Bird / Cockerel / Dolphin / Cat / Elephant / Tortoise / Duck / Snail / Horse - Ornamental Knob Brass Tap with 3/4'' hose bib connector
BSP 1/2'' male; 21mm outer thread diameter; 20mm long thread
Protrudes 110 mm x 150mm(approx) Overall Height
Weight 550gr.
Brass made; includes a decorative backplate and finished in polished brass
Availability - Typically in Stock
Note: All dimensions are in millimeters (mm). 10mm equates to 1 centimeter (cm). 1 inch equates to 2.54cm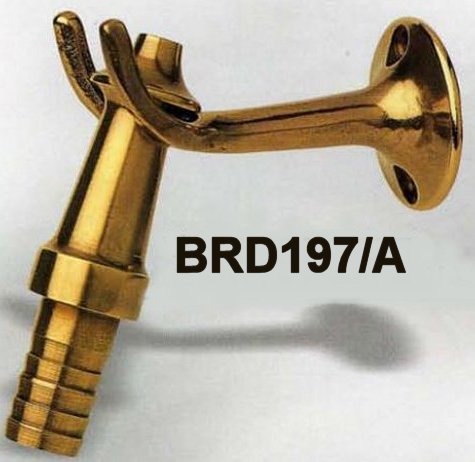 LEFT: A quick fitting hose pipe nozzle and elegant matching wall hanger all in polished brass for 15mm pipe.

BRD197/A - Brass hose pipe nozzle : with brass hanger
15mm brass tipped, water hose barbed nozzle
Nozzle length 80mm [of which 30mm barbed]
Hose hanger protrudes 70mm
Weight: 250gr
Availability: In Stock
BELOW: These water hose bib taps and spigots are basically the above, animal themed 1/2'' taps whose knob is replaced with a standard one.
Sample, trade and private ordering: Single, small or larger orders of hose bib taps with animal ornated knobs by private individuals, architectual and interior home designers, landscapers, plumbers and traders are welcome. We do ship to the USA, Canada, Ireland, the UK, Europe, Australia, New Zealand, the Middle East, Japan and other countries.
Contact us for pricing, stock availability or questions about our: Hose bib taps with animal ornated handles in polished brass finish.