Water Fountain Spout, Decorative Hose Bib & Wall Fountain Spout in Brass
If you're after a source of decorative garden taps, water fountain spouts or artistic wall mounted water emitters for the indoors or the outdoors you came to the right place!
ArtDecoTaps supplies decorative taps, ornated hose bibs, classic bathroom faucets and kitchen sink mixer taps, ornated water fountain spouts and water emitting escutcheons and scuppers. All our tapware is traditionally casted in brass in small quantities at European artisan workshops.
Decorative Tapware in Brass for the Indoors and Outdoors
ArtDecoTaps supplied ornamental faucets and water emitters beautify classic and rustic gardens water features, hotels, restaurants and homes world wide.
Despite casted in limited quantites our, brass tapware and decorative water fittings adorn small and large water features at private and public spaces in Europe.
In private our vintage styled sink faucets and rustic kitchen basin taps are installed at classic homes, farmhouses, poolsides, saunas, patios and backyards.
For 20 years ArtDecoTaps have been supplying indoor and outside brass tapware to international decorators, landscapers, architects, internal designers, re-sellers and home owners in single or larger quantities.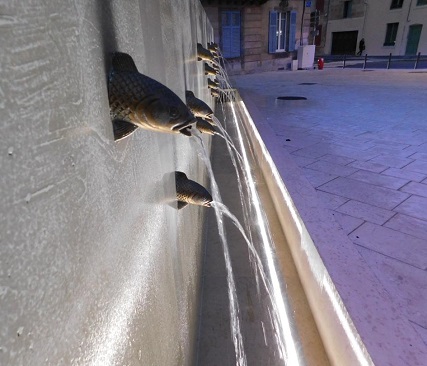 ArtDecoTaps Water Fountain Spouts and Brass made Tapware includes:
Decorative water taps and Ornated hose bibs ;
Artistic outdoor taps and Ornamental garden spigots ;
Indoor sauna and Artisitc bathroom faucets ;
Ornated push button taps for Water fountains ;
Water fountain spouts and Wall fountain spigots;
Classic garden water emitters and scuppers ;
Designer wall mountable sink taps ;
Rustic deck mounted basin taps ;
High rise, hot and cold water faucet mixers ;
Wall masks, escutcheon and back plates ;
Ornamental Garden Taps, Designer Hose Bib Taps & Decorative Water Spigots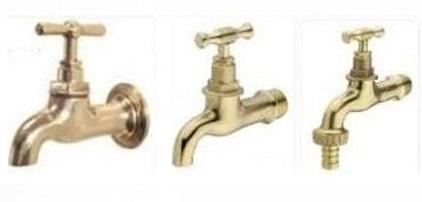 ABOVE: 1/2'', 3/4'' and 1 inch traditional water taps and hose bib taps casted in solid brass that can be used as indoor faucets or asoutdoor hose bib taps.
Ornamental Sauna Taps, Artistic Bathroom Faucets & Hot Water Taps

ABOVE: Outdoor and indoor brass taps in polished, black or antique finish with tall handles for sauna and bathroom or as outdoor water fountain spouts.
Decorative Hose Bibs in Brass, Chrome & Bronze Finishfor the Indoors & Outdoors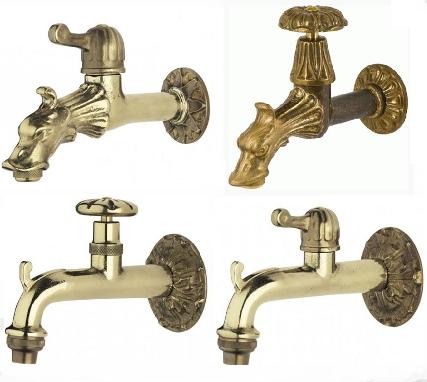 ABOVE: Swan head hose-bib faucet and more classic decorative brass taps available in styles that can be also used as ornated garden hose bib taps and spigots.
Classic Brass Taps & Hose Bibs in Brass, Chrome & Bronze Finish for the Indoors & Outdoors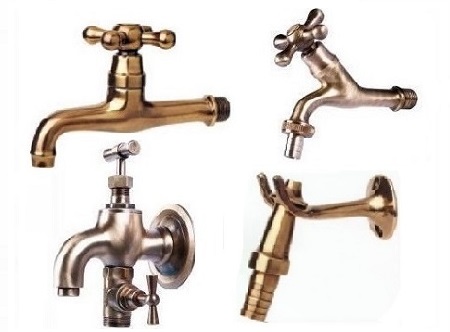 ABOVE: Hose-bib taps and decorative spigots in brass finish and casted in a retro design making these faucets great for classic indoor and outdoor spaces.
Decorative Push-Button Water Fountain Taps & Swan Design Sink Taps with Hot and Cold Water Mixers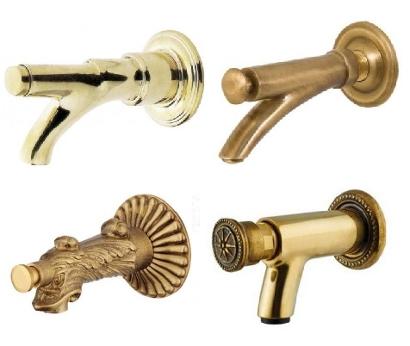 ABOVE: Plain and intricate press button taps in polished brass or oil rubbed bronze finish. Such push button spouts can also be fitted towall water fountains.
Classic Sink Taps with Hot and Cold Water Mixers for Bathrooms & Kitchens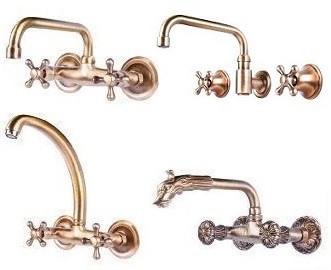 ABOVE: Antique styled wall mountable sink taps and hot water mixers in brass for classic bathrooms, rustic kitchen sinks, farmhouse and courtyard water basins.
Small and Large Water Fountain Spouts in Polished Brass & Oil Rubbed Bronze Finish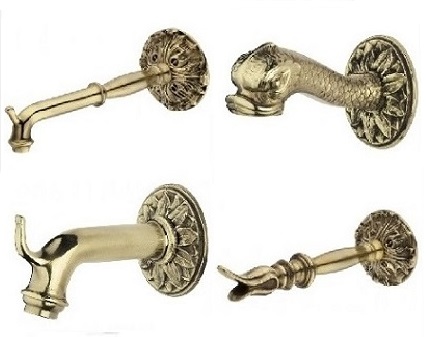 ABOVE: Small and large water fountain spouts in polished brass. Up to 1'' thread sizethese continuous water spouts make great wall fountain spouts.
Wall Mounted Water Fountain Spouts, Wall Water Emitters & Water Scuppers

Large Water Pond Spouts & SmallerWater Emitters & Retro Styled Valves

Large Escutcheons, Wall Masks & Back Plates & Small Rosettes in Brass

Classic Taps, Fountain Spouts & Water Spigots Corporate & Private Orders:
ArtDecoTaps supplies the above 'Made in Europe' exquisite inventory of inside and outside decorative brass tapware, ornamental water fountain spouts, continuous water emitters and wall masks. Exceptionally we can offer different finishes including polished brass, 'oil bronze rubbed', chrome or rustic finishing.
We supply our brass tapware, spouts and water emitters in single, small or larger quantities within Malta, the United Kingdom, Ireland, Europe, North America, US, Canada, Australia, Asia, Middle East and worldwide to decorators, traders, re-sellers, commercial entities or private individuals internationally. More information Here!
For Pricing, Availability or Questions: Contact Renaissance Arts Company Limited at info@artdecotaps.com and cc to renartscoltd@gmail.com or call at +356 21 632623
*Due to issues with our emails kindly copy your message to both emails*